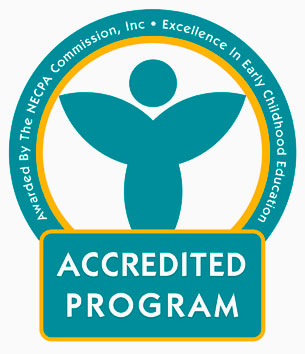 We're a National Early Childhood Program Accreditation (NECPA) certified school! NECPA certification measures a school's ability to build positive, high-value relationships between teacher and student, school and family, and center and community. NECPA certification was created first and foremost as a tool to help parents identify the highest quality child education programs.
The Learning Nest Plantation
We are a school devoted to the development and growth of children in a healthy, inclusive, and intriguing learning environment. We opened our doors as DPK in 1989 and have since provided a well-known and well-respected learning environment in the Plantation community. 
Our campus features newly renovated classrooms, with beautiful outdoor and covered spaces for different types of student activities, and a fenced-in pool. 
Our loving and professional staff – many who have been with the school for over ten years – are committed to the safety, well-being, and education of your children.
To provide a safe, diverse, creative, healthy, and fun environment that enables our children to grow intellectually, spiritually, and physically. We are committed to creating and maintaining an optimal learning environment that fosters respect and compassion, where children grow with enthusiasm and a sense of self-confidence, independence, responsibility and leadership. Our students become productive members of their family, community, society, and the world.
Our vision is to facilitate an environment that, as part of the learning process, prepares the child to live in a world of diversity with confidence and integrity. Our vision is for our students to become honest people who treat others with respect, love, and compassion. Our students will become citizens of the world who contribute and make decisions based on the highest morals, transforming not just themselves, but also our community, country, and planet.
To provide our children with an integrated educational experience.

To recognize and affirm the individuality of each child.

To provide an environment where students can grow in accordance with their own needs.

To help children develop in such a way that they remain in touch with their own nature and develop respect for the environment in which they live.